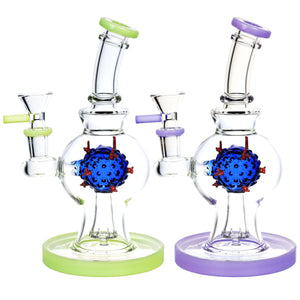 Coronavirus Covid-19 Perc Glass Water Pipe 7.5" 14mm F - Assorted Colors
Get your very own decorative "virus" percolator water pipe.
Too soon? Most likely, but they are in stock from China and we only have 8 of these. Once they sell out they will be gone for good. 
These Borosilicate glass pieces are 7.5 inches tall with a 14mm female water pipe, fixed down stem and a 14mm male herb slide with handle.

Blaze away your woes and forget about that pesky C bug who will not be named.