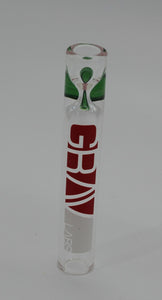 Grav Labs 12mm Logo Taster - Assorted Colors
Taste the herbals and finer things in life with this handy dandy hitter.
The 12mm taster is hands down the most popular size among customers for years. It's not too big like the 16mm with it's large bowl, nor too small like the 9mm which is a true "taster." 
It's small, compact, easily concealable and convenient whether it's for indoor use or on the go. It features a marble anti-roll stopper to keep the pipe from rolling away after all the fun. 
 Taste it!